While we live in an increasingly digital world, it's still means something to get a custom holiday card from your family and close friends. I usually admire the wonderful photo cards my friends and family send, because I usually never have my act together enough to send them out. I would have had an excuse this year, since we hve a new baby and all –  but thanks to Shutterfly.com, my cards are already mailed out.
It definitely helped that we were treated to a photo session in Mid-October at the Plaza, courtesy of the Hot Moms Club and Shutterfly. Photographer Michael Weschler took our photos and was very patient with my mischevious 5 year old and 2 1/2 year old. Picking a great Hanukkah card on Shutterfly.com was a no-brainer.  All I had to do was pick a photo that I liked, choose a card template and the text. The cards were gorgeous, delivered quickly to us and I love hearing the ooh and ahhs they generated. And for a mom with a newborn at home, it was done so painlessly. Shutterfly will even mail it for you, for an additional fee per card.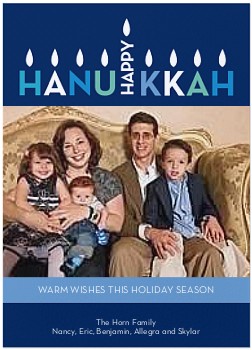 Click here to see a selection of custom holiday cards.
If you haven't had time to do your cards yet,  it's not too late — just check out Shutterfly's Holiday Shipping Guidelines to find your deadline.
There's a special sale going on until December 1st — check their Special Offers page. The site is offering 50% on some products, 30% off on cards and free shipping with code: SHIP25.
Thank you to Shutterfly and the Hot Moms Club for providing a photo shoot and holiday cards to facilitate this review. All opinions expressed are my own.