Week One: What was the most useful baby product you received as a gift?
Post to enter. The winner will be selected at random from all the entries posted through Thursday, August 9th by 11:59 pm EST. This topic is on the Mommies with Style Message Boards – you need to register to enter to post.
The prize: An awesome gift basket donated from Hot Moms Club, leftover goodies from Bachelorette Trista Rehn's Baby Shower, hosted by Suave and Hot Moms Club in Vail earlier this month! (Trista and Ryan welcomed a baby boy last week.)
This gift pack includes: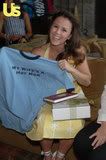 Suave gift set of yummy lotions and body washes, Hot Moms Club tanks and tees for the whole family, an autographed copy of the Hot Moms Handbook, Hooter Hider nursing cover up, sexy nursing lingerie from Condessa, and a Travel Silkie by Patricia Ann Designs. Tons of great stuff!
For details on this contest, and upcoming prizes, visit the original post from Thursday, August 2nd.