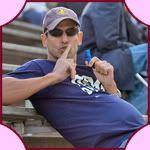 I couldn't resist posting this one. Normally you want hubby to try and work off that beer gut, right? Well in case you like hubby with a little more spare tire around the waist… or if you are just looking for a great gag gift… or if hubby's looking for a way to smuggle in some beer into the stadium for the next game, look no further than the Beerbelly, for sale at the Succulent Wife.
Seriously, it's a strap-on beer gut complete with a "bladder" to store the beer, and a tube to dispense it (presumably into hubby's mouth.)
If nothing else, this is sure to provoke a number of laughs. It's currently on sale for $39.95 (normally $49.95) and ships for free.