…and I have to say, while some of it is due to Lisa, a fantastic instructor, and some due to, well, me, I'm going to have to give a lot of credit to my clothing.
While Life is Good has a huge variety of comfort clothing, that works well for hanging out, lounging, and having fun, I'm giving major kudos to their fitness clothing: Good Tech Harmony. The clothing fits nicely–not too tightly. It seems to absorb moisture, when the intsructor turned on the fan because "even she was sweating," I was surprised–I still felt refreshed in my Good Tech Harmony Tank. I'm wearing a size small. And it fits nicely — breathing room allows it to move with my movements, but its not so big that I swim in it, or it gets caught in equipment or with quick moves in an aerobics class.
While Good Tech Harmony clothing was created with fitness in mind, its so comfortable that its not just for fitness. My mom has been wearing the line when she's working around the house (and they're constructing a new house in NC this summer, so she's out their wtih the builders in the heat.) She loves how easy it is to wear–and that she can wear it for a very casual get together, a walk in through the neighborhood or cycling class. (Yes, Nana cycles!)
The shirts are slightly fitted, so that they aren't meant to suffocate, but compliment a woman's figure. I also love the knee-lenghth shorts for pilates.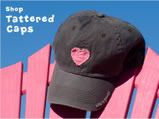 Of course, if you're shopping Life is Good, you're bound to notice the clothing beyond Good Tech Harmony. We're fans of the loungewear, the kids clothing (utterly fantastic–well made, washes well, and the kids love the graphics) and my all-time favorite shirt is my football tee in tulip, which is so soft and light, its like living in pajamas–only it looks cute enough to wear to the store! The accessories have to be mentioned, too. Carson has a train chill hat (velcro closure) that fits like a frat-boy's cap after 4 years of college, perfectly to his head. (I wear a child-size chill cap, too–the adults fit me as well, but I like the graphic on the child one for me). I also just noticed they've introduced tattered chill caps, which must be even more comfortable the instant you put them on. I love the look.
Life is Good is constantly introducing new items. It makes sense to get on their mailing list to make sure you don't miss anything. And, when you get on that mailing list, you'll be entered into a contest that, if you win, Life will be VERY Good. Each month, one newsletter subscriber receives a $50 gift certificate.
No matter how good life is, I have a problem. I love their product so much, that I still haven't mentioned all that we have, and more that we're ordering. Join me on the message boards if you have questions about Life is Good. At this point, I can help you with most of their lines, I'm such a fan. From home to toys, clothing to pets, Life is Good makes life good. Their lines are reasonably priced, and you know you're getting a great value.
And one thing more, I have to point out their fantabulous Customer Service and return policy. Not sure about a size, fit or look? They'll take anything back for exchange, no questions asked, and they'll pay return and exchange shipping. Just contact Life is Good once you recieve your shipment and they'll work with you to make the exchange, because, to make life good, you have to make the customer happy. And Life is Good makes Life Good.