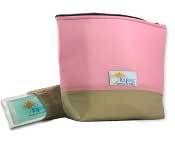 It may not have been created for babies, but the IcyBag cosmetic, loved by Ashlee Simpson and Christina Aguilera, has been a medical lifesaver!
This stylin' beauty cooler bag (check out the ever-popular colors) is a diva's dream. Perfect for hot beach days, it keeps make-up and lotions cool when the weather is way too hot.
But its a Mommy-Diva's dream in disguise. Sure, toss your lipstick in to keep it cool, but you can also throw in a bottle of Amoxicillan and a small pumped bottle. The tiny gel pack goes from freezer to bag, but comes with a coordinated cover, which holds in the sweat of the ice-bag, so your cooled items stay cool, but not soaked. Measuring 6x2x8, it easily fits into a standard diaperbag or tote, but its colors are so fashionable you could carry it alone.
Mine's coming with me for a couple's weekend in Vegas, when I'll be sunning by the pool in March. But it will also be in my car with the ever-important parenting items all summer long.
Save 20% with code MWS20.