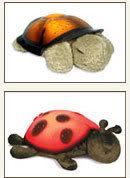 I'm loving these products from Cloud b for gift giving this season. In particular, the Twilight Turtle and Twilight Ladybug are two of my favorite products for the season. The "back" of the turtle and ladybug light up to project the image of a starry night sky on the walls and ceiling. The turtle comes in blue, green or amber and the ladybug comes in blue, green and red. And even cooler, the star images that it projects are actual constellations – there are 8 major star constellations that can be identified using a star guide that comes with the product.
Plus, this is just a fun twist on the traditional nightlight – sure to be a hit with the kids.
The Twilight Turtle and Ladybug are a part of Cloud b's "sooth the senses" collection. This also includes the Lavender Lab, which, when squeezed, emits a soft lavender sent. It's designed to sooth and relax as lavender is a calming scent. They recommend putting it in baby's crib and then taking it out before baby sleeps but personally I'd be worried I'd forget to take it out so my own opinion is that this would be good on the shelf and squeezed when you remember, or placed on the pillow of an child of toddler age and up.
There's also the Cuddle Cub, which vibrates (heart beat vibrations) and the Sleep Sheep, a sleep machine disguised as a plush stuffed sheep.
You can buy any of these items on the Cloud b site. Or for the Twilight Turtle and Ladybug, check them out on the Mom4Life site. Go through this link to receive 10% off your purchase of anything on the site and then do a search for "twilight" and they will both come up.