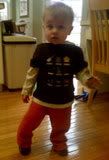 Excuse the crappy iPhone quality photo but I had to share this photo of Cole from the other day. Jen and I were out shopping when he spilled a sippy full of soy milk all over his outfit. I was kind of far from home, and it was early, so I bought him an outfit at Bloomingdale's to change him into.
I ended up mixing and matching this Rock n Roll hoodie from Pumpkin Patch with a pair of lounge pants from Tea Collection. I just love the outfit. And a few days later I dressed him in it (the day of the photo) again.
I also put him into the cutest new pair of shoes I got him at Stride Rite (they're hard to see in the photo but he's wearing the Charlie). Anyway, had to share because I loved the whole ensemble.