World Breastfeeding Week, Day 4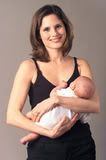 GlamourMom nursing tanks were my undergarment of choice when I was breastfeeding Cole. It's a multi-functional product: it provides your girls with support, features a clasp so you have easy access (one handed, no less) to feeding your baby, and it's a tank, so it covers all that post-baby flab.
I'm was a big fan of these. (Who wouldn't be? Convenience? Hiding your baby belly?) It comes in a ton of different colors. They're currently on sale for $30.49 (normally $33.95) on the SuperMomz site. Plus you can use coupon code MWS10 to receive an additional 10% off your order.