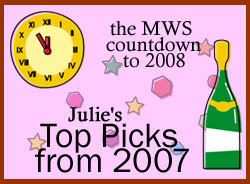 Ahhh… the end of another year. A time for champagne, chick peas, football, countdowns and an endless number of top 10s. Saying sayonara to '07, a look at my top 10 reviews in, of course, no particular order:
Suzanne Myers Jewelry
Of the 350 days since receiving this necklace, I'd be surprised if I didn't wear it 340 days. This gorgeous piece has become a part of my daily ritual. Each day, not only do I carefully put it on, but I stop to admire it in the mirror as I head out of my bedroom, and my kids admire it nearly every time I come to their level–moving the charms around to read their names. I've mentioned before that Suzanne is a lovely woman to work with, one who takes pride in her hand-created art. I've noticed more Suzanne Myers jewels popping up in the neighborhood and preschool as 2007 has progressed, but if you have yet to ask for the scoop of my priceless jewels, check out my original review.

Life is Good Clothing and Accessories
You know the rule of the jeep owner? The one that states that all who drive a Jeep have to wave to each other as they drive by? Have you heard that's also true for Life is Good wearers? I'm not joking. Every time I wear Life is Good and I pass another wearing LiG, we greet each other with a friendly "hello." You see, LiG wearers are a part of a secret society. We enjoy ourselves. So, I'll admit it, I may be obsessed. I didn't realize it at first, it actually took a few weeks until I began being teased by a few of the moms at our preschool. Teased because, apparently, my life is good. And so are the lives of my boys. And everyone knows it. Yes, upon testing out so much of their clothing, I did, indeed, become a bit obsessed. I continued to buy… and buy… and buy. As each new season of clothing is introduced, I'm back on the LiG website, filling up my cart with new "have to wears." And of my newest clothing, I have to tell you that I love love love my knit hat, my snuggle socks and my long sleeve graphic tees. And I'm still drooling over the new full-zip sweater and those slippers; I'm dreaming of lounging back in those.
Mommy Make-Up
Another 2007 addition to my daily routine isMommy Make-up. This fantastic make-up kit has shortened my get-ready time, but lengthened my look–to one that looks like it took a lot more time to apply than it did. The pieces are all there in the kit, and there's no need to scrounge around to determine what will work where and how because it comes with handy directions. And with the mesh cosmetic, this kit comes with me to the gym for a fast fix-up after my post-workout shower.

Grace Table by Jennifer deLong
It began in the summer of '06 when we had our basement finished. A simple quest to design a practical, engaging and useful playroom became, nearly, an obsession. My husband worked to complete shelving before the toys started taking over. We added a kitchen which provides many hours of fun pretend-play, but something was still missing. After incorporating some organization tools, our furnishings were nearly complete. But this summer, the ultimate pieces were incorporated into the playroom: we received a Jennifer DeLong Grace Table and Stools, giving us the final element to make our basement complete. Only a few weeks later, however, this table was moved to "Mommy and Daddy's playroom" (aka our basement family room) when it was needed as a cocktail table. And weeks later, we moved it upstairs to our family room for the boys' birthday party, where it stayed for weeks as a crafting table. A true gem in our home, the style and versatility of the Grace Table have allowed it to move from child's kitchen table to a living room piece, no hiding under a fancy table cloth required.
Animal Bag by Boon
Back in the basement, another key item that we seriously couldn't live without is our Animal Bag by Boon. So much more than a Beanie Bag Pillow (though an excellent ottoman for reading with the kids) the Animal Bag now holds many more stuffed friends than it did in February when I wrote the original review. (We've been through many an Urgent Health Care visit with free bears, 2 birthdays, 1 Christmas, 1 Chanukkah… and how many new stuffed animals!?) And while there was screaming today as Carson unzipped the bag to add yet another Baby Brown Bear and Wes fought him to keep the bear out, at least there is a place where all the animals can gather… and keep them out and away from cluttering my world.
Club Swim Swimwear
A little over a year ago I was ever-so-kindly informed that my bathing suits were made for old ladies and didn't compliment my body–at all. So, before a trip to Mexico, I rushed to the mall for sexy new swimsuits, tossing the old ones out the car window. But returning from Mexico, I becaqme aware that as much as I loathed the tossed ones, they were certainly more practical at Mommy and Me swim class and for catching a jumper in the "deep" end than the teeny-weenies from the beach. Finding Club Swim was dream. These inexpensive suits look good and stay on through the biggest splashes and pulls. Being made for competitive and fitness swimming they were the perfect suits for this summer with the kids–from Mommy and Me to relaxing in the beach pool–this summer I looked good and felt good.

Skip Hop's Triple Bottle Bag
While the purpose of Skip Hop's Triple Bottle Bag may be to keep baby bottles chilled, my 2 year old will soon be "pack-packing" his for lunch at preschool. Its sized perfectly for his back and is very light weight. Plus, this bag puts Aunt Jenny to shame. Remember the episode of Brady Bunch where she pulls more and more gifts for the kids out of her bag? The Triple Bottle Bag has a similar effect. We used it this summer and this somewhat tiny bag easily held more than my kids could eat. I had no problem fitting in their sandwiches, snacks, a SIGG and the cold pack.
Automoblox Minis
After appearing on so many Top 10 lists in 2006, I hesitated to include Automoblox again. But this year's addition to the collection, the Minis are so beloved in our home that I would be remiss to leave them out. We're big fans of Automoblox, have been since they first came out. And ever since my 2 year old got ahold of his Automoblox Mini, its been hard for him to put it down. The size is just perfect for his little hands and he can manipulate this one much easier than the original size. That, and the fact that I can fit a few in a Ziploc bag that's tossed in my bag, make the Automoblox Minis qualify for a spot on 2007's list.
Bumpyname by Inchbug

When I introduced the MWS audience to Bumpyname by Inchbug, I praised them for making it easy to tell who was drinking what–a savior for playdates and park days. Little did I know that in the upcoming months one of my boys would be diagnosed Lactose Intolerant and the labels would become a necessity in our house. Just a tablespoon of real milk, and my big guy is sick, unfairly sick. By labeling our cups with Bumpynames, we have yet to have a drink mix-up, and my four-year-old has been healthy since September. My husband may have thanked me for finding the labels, but I thank Inchbug for helping my guy stay healthy.
See Kai Run and Sweet Shoes
At some point during the past 2 years, I became known in some MWS circles as a "shoe guru." Spending hours studying baby shoes will do that, you know? So while Wesley still adores his soft shoes, this year as he grew, he helped me to broaden my shoe-horizons, learning about "big kid" shoes as well. With so many shoes being sampled, our shoe area tends to overwhelm. But finding the most worn wasn't difficult, and rounding out this years Top Ten list is number 10-a: See Kai Run shoes. Not only adorable, I love the flexibility of these shoes. They are also W-I-D-E which is perfect for a little grower and the completely foldable rubber sole allows a beginning walker to still find his footing.
No, that wasn't a typo, SKR was number 10-a, and number 10-b belongs to a shoe that Wes doesn't want not to wear: his Sweet Shoes. Jen reviewed these a few months ago and at first I thought the shoes to be to rocker-ish for my preppy boy's feet. But when we recieved our pair, I realized that the rocker impression, while truly there, is actually adorable. Plus, the shoes fit so well (they run large, Wes wears a size 7.5 shoe and is still in 18-24 month shoes) that he insists on wearing these soft-soled shoes daily–would rather them over any hard soles.
The year was so great, that I couldn't just stop at 10-b. And while I hold special places for all of my reviews, I have to mention a few of the runner-ups:
French Bull Monster Plates and Cups: A cute, safe and green way to serve dinner
Apple Blossom Prints: Oh! The compliments my cards have received!
Word Chase: One of many games that never fails to entertain.
Little Uni: Still a favorite baby gift.
emi and leo: This year's birthday shirts.
Mom Agenda Planner and Kitchen Folio: And everything else MomAgenda, helps to keep me sane and organized!