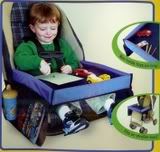 Here's a cool little add-on accessory that's undoubtedly useful on long road trips, the Travel Tray from Family Travel Gear. We recently tested out this product on a stroller; we took the family to a local jazz festival over Labor Day Weekend. I had the baby in our old Peg Perego Venezia (a bigger stroller) and we brought along the Travel Tray. It was great – he was content in the stroller for close to 2 hours, we put food and toys on top of the tray at various stages and it functioned well. It's nice and big so it holds a lot more than the traditional stroller snack tray.
The Travel Tray's main function is to attach to a car seat – it attachs to the car seat as well, the straps loop around the back of the car seat to secure it. Two mesh pockets on either side provide extra toy storage and easy access for the child to grab whatever he may need.
Use coupon code mommystyle for 15% off your order on the Family Travel Gear site.