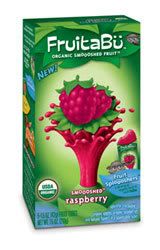 In April, I shared one of our family favorite snacks, FruitaBu's Flats and Twirls. And while we're still constantly reaching for our favorites (the apple Flats), we were recently introduced to their sister snack, Fruit Sploooshers by FruitaBu. Rather than being Smoooshed(TM), these snacks have been Sploooshed.
A consistency similar to a yogurt drink, the package is opened and then sucked out as the organic fruit blend sploooshes into the mouths of hungry, healthy snackers.
Here's another big yelp of support from this mom to FruitaBu. We're all about organic and healthy around our house. The kids will be sure to find Sploooshers and Smoooshed Fruit Flats in their lunch bags this year!