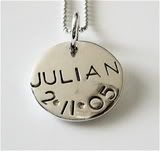 I seriously do not get sick of finding cool Mommy jewelry. Give me a million and one ways to show off my kids pictures or names and I'll never get tired of doing it.
I recently got a necklace from Little Jules, who makes cool pieces for Moms. I have two pendants on a silver chain – each separate piece featuring each of my child's names and birth dates on one side, the other has little hand prints and little foot prints. It's classic and simple and I've received a lot of compliments on it already.
Little Jules also makes jewelry for Dads and tots. Check them out and use coupon code P022807 for a free polishing cloth with order.