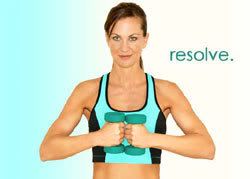 Another great workout to report. Last night it was Pilates, and I moved freely and felt comfortable in my new fitness wear by Fit Couture.
The look is fabulous. New mom, Amy, designed Fit Couture with a confident, go anywhere style. I could easily get away with wearing my periwinkle sleeveless, v-neck top with a cute skirt and no one would have a clue its workout wear. That fact alone makes me want more. How perfect to be able to wear a top all day long and not have to change when I run to the gym late for class?!
The pants I love. I'll admit, I've been wearing cotton/spandex all winter long to my classes, but now that I'm wearing the Suplex Nylon/Lyrca Fit Couture, I don't know if I can go back. They're slick and sleek. Thicker than the cotton, but more form controlling, so no rolls. And no matter how hot it was in that room last night, I wasn't showing sweat in wearing the NYC pants. They compliment my figure enough that I'm not self conscious at pick-up and drop-off at school, either.
As for the fit: perfect. You all know I'm rather petite, so when I received smalls I was a bit concerned that they weren't XS or petite. But the small Pakm Beach shirt fits perfectly. It adapts to my curves and is cut for a fit body. And while the pants are a tiny bit long, I couldn't go smaller in the hips/waist/butt area. They also shrunk a little bit (though I put them through the dryer, despite the instructions not to). At barely 5'1″, they're perfect for pilates or yoga, but I'd go for the capri's if wearing them for kickboxing or step.
Create a great "get fit" look at Fit Couture, where you can mix and match your colors, then order for comfort, style and sweat using code MOMSTYLE for $10 off your purchase.