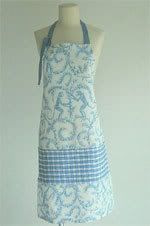 So you might have figured I'm into cooking. I've gotten lots of cool new tools, always find great recipes and love cookbooks. Besides a few foodie failures, the only real disappointment has been a few unnecessary spills… on my Mommy's so Stylish clothing. NOT good. So another kitchen product I'm beginning to collect is aprons. But, of course, this Mommy needs stylish aprons. And Earth-friendly is a huge bonus.
A few months ago, BaileyBea introduced an amazing assortment of aprons. With around 200 original and unique designs, they use gorgeous decorator fabric to create their assortment. Available in sizes for women and children, these aprons will make a spectacular surprise on Mothers' Day.
Wondering, though, just how they're Earth Friendly? I love this: the fabrics are salvaged. Nancy, the owner of BaileyBea, lives in Austin, not too far from the design district. She learned that a major furniture manufacturer in her area was tossing scraps. TOSSING them. Rather than letting them take up space in landfills, Nancy drove over several times and purchased the leftover fabric–sometimes reams of it. Of course, such gorgeous fabric needed to be put towards something gorgeous that we'd all enjoy.

And enjoy this! Nancy currently has the entire line of aprons on sale–up to 40% off. So these beautiful aprons are selling between $15 and $18, down from $25-30. And, perfect for Mother's Day, there are even a few that make a Mommy/Daughter pair. Cute!