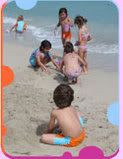 For something a little different looking and fun, Beach Bug Swimwear sells mix and match swim wear separates. They've got something for everyone – the typical mother/daughter matches, but they also have swim guards and bottoms for boys that can match for the family. What's fun is that you don't have to do exact matches – all of their items complement one another so although each suit matches, you can pick out something unique for each person.
Plus, the suits are bright and colorful. Zareen and I tried put one of the little girl bikinis on her 21 month old and couldn't stop laughing, it was so adorable.
Use coupon code stylingmom for 10% off first purchase.