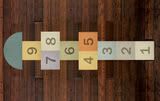 My Mom recently got us a unique present: a Hopskotch rug from Flor for our entryway hall. My oldest loves to jump over it each day as we walk in the hallway, yet the colors and the style make it a nice piece for our house.
And the best part about this rug, and others from Flor, is that they are all so easy to install. Each rug from Flor is made up by 19.7″ tiles. You order as many as you need based on room size – the backing on each made of a rubbery substance that is sticks to the floor well (no need for a rug pad). They do come with little stickers to keep each tile next to one another, but I haven't been using them on our Hopskotch rug. I'm thinking you'd need it on one of their wall-to-wall rugs.
Anyway, check out Flor's array of choices. You can mix and match. Or order a rug and change it up a year down the road. Kind of a neat concept. No coupon code but I find the prices to be reasonable as far as carpeting and flooring goes. I'd be all over the Souk Chic if I had a room to put it in.
I should also mention that they forgot to ship one of the tiles the first time around. I called in and their customer service was great; they immediately shipped out a new piece and it came within two days.