You've probably been noticing this little button at the end of some of our posts recently. We've compiled a list of favorite products and gift ideas into a Mommies with Style Top Holiday Picks special. Stumped for a gift idea this year?
Check out our Top Picks, which we will continue to add to for the next few weeks. We have several ideas (with coupons) compiled for you here.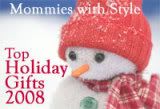 For your kids
1.)
LeapFrog's Tag Reading System — It retails for $49.99, although be sure to look for more sales as the holidays approach.
Ages 4-8 years. A great reading/teaching toy. Pick and choose the books to go with it. Read our full review.

——————
2.)
Last January, we got a Wii. Soon after, I reviewed the
Go, Diego, Go Dinosaur Rescue game for the Wii
. It's an ideal game for a preschooler.
For starters, Diego can't "die," which makes it a lot tamer than most electronics games. And it includes a little window in the left hand corner of the screen that instructs the player on how to hold the Wii remote and what to do. It's a fabulous introduction to playing with a Wii and using the remote. At the time of my review, it was selling for $49.99 but now that it's been on the market for awhile –
it's listed at $17.99
! This is a steal and a great deal for the holidays – I definitely recommend this game for young Wii users.
——————
3.) And new this season to the Wii is Dora's version of this game –
Dora Saves the Snow Princess.
It's pretty much the same concept of the Diego game with a very similar feel and interface, only it's Dora and she's on a mission to save the Snow Princess. Again, tons of fun and great for the younger Wii users.
It retails for
$39.99 but is selling for $36.99
.
——————
4.)
P'Kolino Desk
. Designed for kids ages 2-6, this desk is light enough to move around easily, has a nice design and offers storage for arts and crafts.
It's $89, read Ciaran's review for details
about the desk and to learn how to purchase.
——————
5.)
Polly Pocket's Pop N' Swap Fashion Frenzy – Sport
— $21.99 on Amazon. These Polly Pockets come with 4 different dolls and several outfit options so kids can try different outfits. For girls ages 4-6 years.
——————
7.)
KooKeys
— these cyber-toys are a lot like WebKinz. Each stuffed animal comes with a code – login to
KooKeys.com
and create a character and profile. Your kids will have a house for their animals, be able to interact with other KooKey characters in real time and even go to "school!" You can buy them at Target for $14.99.
——————
For hubby:
1.)
Dad Gear
– use coupon code MWS19 for 19% off at Dad Gear, a hip spot to buy items for Dad such as a Dad Gear backpack (all the amenities for caring for baby when out, but still masculine looking) or a Dad Gear Diaper Vest
——————
For you or your Mom friends:
1.) A
Mom Agenda
– there isn't a Mom out there who wouldn't appreciate a little more organization. We're big fans of the Mom Agenda here at Mommies with Style. These day planners are organized and made by Moms – so there are spots for the types of things you need. (Each child gets a row; party planning; much more) The planners are by the school year, so the current Mom Agenda is for 2008-2009. But it runs until September so there's certainly plenty of time to start! And the Minis (the smaller version of the original) are currently sale for 40% off for only $24! (originally $40) The Minis provide a day to day view; the
——————
For your sitter or little sister:
1.)
If you happen to actually know any females between the ages of 13 and 40 who have not yet read
The Twilight Series
, run yourself to the nearest bookstore (or hit up Amazon) and buy this book set for them for the holidays. They won't be disappointed.
Toss a little My-So-Called-Life teen angst into a bowl with some Harry Potter magic and finish with a vampire or two and you'll get the gist of these books. But I probably don't need to explain as you'd be hard-pressed to have missed the hype of these books and the movie over the last few months. The hardcover, 4-book set, is selling for
$45.65 on Amazon (45% off from retail
, which is $83.)
——————
2.)
BookSwim
– Really, this service could also be for you, a friend, your mother or just about anyone on your list. Think Netflix for books and then check out BookSwim. I can't fathom any book-lover not loving this gift – what could be better for the person who loves to read than a service where they can have books shipped to their mailbox on a regular basis? Read
Whitney's full review
to find out more, and be sure to use coupon code
41X2AB5
to receive $5 off any gift card purchase of $25 or more on BookSwim.
3.)
Simply Sarah Shaw
– How about a hand bag organizer? This is handy for any woman with a lot of bags. Simply Sarah Shaw's items have been seen in InStyle, the Oprah Magazine, Parents Mag and more. Be sure to check out her other items too – adorable gift ideas. And use coupon code
MOMMIES
for 25% off with a min purchase of $30 –
this coupon is not valid for the candles
.
——————
For your Mom or Mother-in-Law:
1.) How about a photo blanket from Custom Creations? What Mom or mother-in-law wouldn't love to cuddle up on the sofa with a big blanket which is also a picture of their grandchildren? You can read
Julie's full review
and be sure to use coupon code
shipping26
to receive free shipping.