I've been babysitting an awful lot lately for a baby! It happens to be my daughter's baby, Rebecca. Yes, my daughter is only 5 and she couldn't possibly have a baby!!! But while she is away at school everyday, I have to promise my daughter that I will watch her baby and take care of her. She says her baby Rebecca really does feel almost real and therefore I need to watch her unlike her other baby dolls. What makes her feel so real? You literally fill the doll up with warm water. All Water Babies are designed with an easy-fill, leak-resistant, water-tight valve. It was super easy for us to fill the doll with warm water thanks to the included funnel. Water Babies were designed to replicate the warmth, weight and feel of a real baby. These battery-free babies do not rely on technology or tricks – they do not walk or talk. Instead they offer the basic desires of young girls by offering a warm, cuddly doll to care for and love. Water Babies come with their own bottle, waterfillable teddy bear and are available in two sizes; a 9-inch newborn and a 13-inch Water Baby and each size offers three ethnicities: Caucasian, African-American and Hispanic. They are recommended for ages 3+.

When my daughter is home from school and taking care of her Water Baby, Rebecca, she is constantly slinging her in an adorable SlingEZee Doll Sling. This pint sized sling, is just the perfect size for your child and can hold dolls and stuffed animals. The SlingEZee Doll Sling is just like the adult-sized version, and rests comfortably on my daughter's shoulders thanks to the fabulous padding and the adjustability.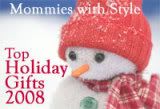 It comes in a variety of fabrics and you can even order one that matches yours! It is the perfect gift for a new big brother or sister as they model what they see – your great example of babywearing!