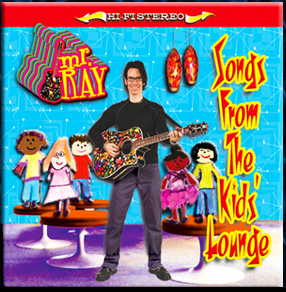 A few weeks ago, my 4-year-old neighbor was singing the days of the week in a cute, hip tune. "Did you learn that at school, Julia?" I asked. She kept singing while her Dad told me about Mr. Ray: a very popular singer in NY and North Jersey.
The next week, while heading to the zoo with Julia, her brother and mom, we listened to Mr. Ray's CD's the whole 45 minutes. Guess what? It wasn't just bearable, we were all singing! I love the messages, the creativity and the mix of the styles of the songs.
If you're a Nickelodeon fan, you'll probably find Mr. Ray familiar, his video has been played in their line-up. And his songs are featured on Disney Music Channel. And if you're local to NY or North Jersey, you can even book him for a birthday party. Once he returns from his London performances this month, he'll be travelling mid-northern New Jersey for several summer concerts. And Philadelphian's can hear his sound at the zoo in August.
Seriously great music, Mr. Ray has produced 3 CDs of which we have 2: Family Ride and Songs from the Kids Lounge. Our next music purchase: Start Dreaming. You can sample his music on the Mr. Ray website.