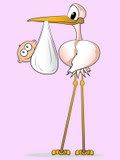 Hey all… some exciting news from Tennessee! I've just received word from Tanya's husband that she had baby Luke this morning and everything went great!
Luke Christopher was born at 7:50 am ET and he was 7 pounds, 1 ounce and 19 1/2 inches.
Congratulations to Tanya and family! So although Tanya will no longer be reviewing maternity products, look forward to hearing her review some great newborn products in the upcoming months.