Too bad it isn't his. A few weeks ago, we borrowed WordLaunch from a friend and its one of very few toys that my 3-year-old asks to play with regularly. The LeapFrog brand toy plugs into your TV (so easy my kids do this part) and offers 3 phonics-learning activities. The graphics aren't stellar so don't waste your flatscreen with this, its fine on a box. The games include 3 letter words, 4 letter words (with the silent "e" who is a magician) and making words. Kids are rewarded by gold coins, which then can be traded to create a roller coaster. Narrated clearly, each letter sound is identified by its sound and a an associated image (there's a muffin on the "m". "MMMM MMMM MMMM")
The control uses letter pieces similar to Fridge Phonics, but theyr'e not magnetic, so the pieces don't interchange. It also uses lower case letters, which is awesome since many Kindergarten teachers find the need to introduce them at age 5, as kids aren't familiar with them yet.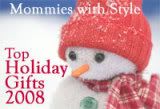 A bit slow for a reader, this game is definitely for the younger kids who are just beginning to learn their letters and sounds.
A lesser-known LeapFrog toy, its been on sale at Target and Amazon for weeks. Definitely a good one to wrap and place under the tree.