Writer's note: I read this great post at Musing of a Housewife's blog yesterday. It's a really refreshing post all about the turn many blogs and the blog community is taking – self-promotion, blog marketing, branding, etc. She pretty much nails on the head a lot of how I have been feeling lately. Like I'm sending so much time reading about how to improve this site and I'm forgetting why I started it.
I'm making a promise to myself and to you guys to get back to what I love – which was reviewing and talking about the everyday products and things that help my everyday life as a Mom. Not saying that this blog can't always use a little more PR but I wanna get a little more lovin' and "everyday" back in the site.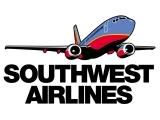 So without further ado, today's post is a tribute to Southwest, the airline that makes me actually enjoy traveling with my kids. I've been wanting to this post forever and well, I hadn't gotten around to doing it. But I really do love to fly when I'm going with Southwest.
Here's why:
-There's no change fee. Seriously. This last trip we took to Florida, I changed the ticket twice. Two times – not only did it cost me nothing, but I actually got MONEY BACK because I changed our flight times to a cheaper flight.
-The people who work for Southwest must have to take some sort of happy pill before they go to work each day, because they are seriously the most pleasant, friendly folks I have ever encountered in all my years of travel. It makes a difference.
-They don't charge for checked bags
-They don't charge for drinks on the airplane. (Although I just got an email from USAirways this morning saying they are going back to free drinks – gee thanks.)
Enough said, right? I know a lot of folks don't like the seating system (not assigned seats), but I don't mind it. If you are traveling with any children under the age of 5, you can board at a relatively early enough time to get seats together. And if you make sure to check-in online 24-hours before your flight time, you'll get a good boarding group anyway so it's no sweat to me.
It seems like a no brainer to me, but a lot of folks don't know about Southwest. If you live in or near an airport that Southwest services, consider flying them. I want to add I haven't talked to anyone at Southwest's PR or Marketing and this post comes from sheer love of flying with them.