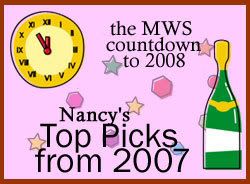 Since I became pregnant in April and starting posting reviews on Mommies With Style in June, I've come across a lot of great products that have made my life easier or made me feel better. Most of my top picks are pregnancy related. Enjoy!
1. Bumpil's On the Way Pillow
I love Bumpil's On the Way Pillow because A) it stopped my leg cramps at 31 weeks for GOOD. B) Now it props me up on the bed and the couch because I'm giving birth very soon. C) After the baby is born, I can use it to prop her up or to support her during breastfeeding and D) It unzips to make a safe area with bumpers for the baby to lie on. I love that you can use it so many different ways. More bang for your buck!
Click here to read the original review.
2. Zuma High Chair & M'Home Collection from Inglesina
I love the Zuma High Chair and the rest of the M'Home Collection from Inglesina. The Zuma is funky, stylish, but more importantly a GOOD highchair. The highchair is very sturdy and I loved how easy it was to put together and use. I can't wait to use it with my little girl – she'll be sitting up highwhile chowing down on her first foods this summer! I'm also coveting the Loft Rocker, powered by baby, not a battery. The Spa Changing Table makes me wish I already didn't own a changing table – so cute and you can pick the mattress up to add water to bathe the baby in it.. How cool is that?
Click here to read the original review.
3. Birth'a Bag
When my first child was born 2 years ago, he was 10 days early and we weren't really packed. I didn't want that to happen this time with baby #2. Shari Miller from Birth'a Bag came to my rescue and packed the essentials for labor & delivery for me! She puts in personal care products such as organic deodorant, dental floss, moisturizer, a wooden hairbrush, and snacks for your birthing partner. Turns out I will be having a c-section, but I am ready for recovery and my hospital stay (just needed to throw in a nursing bra, my BINSI Go Go Top to use as a nursing bra, dearjohnnies hospital gown and a going home outfit for baby and me!)

Exclusive for MWS Readers: Get free shipping (a $15 value). Call for details 888.472.8999.
Click here to read the original review.
4. The Bella Band
I fell in love with the Bella Band very early in this pregnancy. Basically, every day you will find me wearing one. My favorite is the black lace. My regular pants will not button and the Bella Band hides that. I hate the big maternity panels on my shorts, so the Bella Band covers it up as well. It looks great – no one knows I'm wearing it unless I tell them. It also supports my tummy and I actually feel better when I wear it. Another plus, my 2 year old son always yanks up my shirt to see my tummy – the Bella Band preserves my modesty.
Click here to read the original review.
Use coupon code MWS07 for 10% off plus free shipping for any 2 or more Bella Bands.
5. BINSI Birth Apparel
BINSI's Labor and Birth Apparel is perfect for labor and delivery. I am going to a c-section because my baby is breech, but I will be wearing the Go Go Top as a nursing bra during my surgery, underneath my gown so I can nurse as soon as possible afterwards and I will be wearing their Prima Mama Skirt afterwards for comfort reasons. According to BINSI's website, "This clothing line specializes in unique birthing skirts and tops for women who want more comfort, control, and empowerment in the delivery room. The skirt's unique design is Carri's own; her expertise isn't grounded in the clothing or fashion industry, but in working with women as a certified doula. Every BINSI garment is designed to work well for doctors, nurses, anesthesiologist-and most of all mommies! BINSI skirts fit below the belly and were designed, along with all the items, to accommodate any medical equipment- even the epidural. BINSI skirts and tops include such features as: front hooks, snaps, adjustable straps and drawstring waistbands, which allows for easy and quick removal."
Exclusive discount for MWS Readers: BINSI is offering 15% off your entire order with code: style.
Click here to read the original review.
6. Dearjohnnies hospital gowns
Rachel Zinny, the owner of dearjohnnies, sent me a gorgeous hospital gown that actually fit me! I'm loving the plus-sized Mimi Gown ($65) from her Limited Edition collection– which features cool, funky prints.. I liked the snap up back (yeah, no breeze) and that it comfortably fit my hugely pregnant body. The two ribbon ties (a classy pink grosgrain) were secure and tied tightly. No flapping in the breeze! The company suggests you wash it a few times before you use it to make it a little softer. My husband actually picked out the Mimi Gown, which was a mintish green with yellow, blue, orange and pink circles. My tush didn't show either. Since it is a hospital gown, I don't think I'll get a problem from the nurses. You can easily pull down the shoulders for breastfeeding access (a plus!). I will be wearing this as soon as I get into recovery, so I can be comfortable!
Exclusive Discount for MWS Readers: Use MWS20 for 20% off all orders excluding monogramming and shipping charges (discount may not be combined with other discounts). The code expires 1/31/08.
Click here to read the original review.
7. The Balm from Noodle & Boo's Glowology Line
Noodle and Boo's The Balm is the only product ($24 for 6.5 oz) actually moisturizes my super dry feet and feels wonderful. Made with oh-so-rich organic shea butter, sunflower oil and with a blend of billberry, lemon, orange, sugar cane and sugar maple extracts, it smells amazing (but I like that it works!) It also kept the moisture in for hours (something the other lotions I've used just don't do). Treat your feet to this, whether you're pregnant or not! I do not let it out of my sight!
Click here to read the original review.
8. Maternity Tees from 2chix
The maternity t-shirts from 2chix are hip, cute and comfortable. How can you beat that? Sassy, but not obnoxious, they celebrate your pregnancy with slogans such as "Haute Mama" tee ($38) in hot pink or black, "Preggo Fabulous" in the long sleeve tee ($52), or "What's Kickin" ($52) in a long sleeve tee in either pink or blue font, I also loved their 40 Week Skirt ($58) – a cute %100 cotton drawstring long skirt for pregnancy and the transition period after. Comes in the army (olive green) color or black. So cute!!
Exclusive for MWS Readers: Use discount code:MommyStyleTop10 for 15% off. Good through March 30, 2008.
Click here to read the original review.
9. Hot Mama Ink
Christina Aguilera is a big fan (and so am I). These hip maternity and non-maternity fashions by Hot Mama Ink celebrates your goddess status with hip (and anything BUT boring) shirts, hoodies, pants and tanks, as well as baby slings. They even have two nursing tanks and a pro-nursing shirt. According to their website (and I wholeheartily agree with this), "A HOT MAMA defines herself by the style that she wears, the attitude she declares, and the bond that she shares with her baby. HOT MAMA INK is designed to embrace all that a mother is, and all she wants to be, with its one-of-a-kind artwork, designed for the HOT MAMA in every woman." The clothes were cool and yet very comfortable for my life as a mom to one, with one on the way!
Click here to read the original review.
10. Solana Swaddle Wraps
My husband and I are big followers of Dr. Harvey Karp, who recommends swaddling as part of his 5 S's for calming a baby (swaddling, shushing, swinging (NOT SHAKING), sucking (pacis) and side-positioning the baby). With Solana's lightweight blankets made of muslin or gauze, we will be ready to swaddle baby #2 a little better.
Doctors recommend not to swaddle the baby with heavy blankets (risk of overheating). Since our apartment building turns up the heat way too high, especially in the winter, we will be using Solana's Swaddle Wraps to keep our baby comfortable and calm!! These lightweight swaddle blankets are hand-made in Australia. The website also has detailed swaddling directions for those clueless parents like me!
Exclusive Discount for MWS Readers: Use code: newmommy for 10% off.
Click here to read the original review.