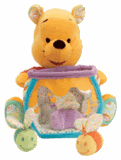 It's the little things, right? Here are two new toys we've recently gotten for the baby from the Learning Curve: Eeyore Tunes and Pooh's Honey Pot. And our family's having lots of fun with both.
Eeyore's legs make a different musical note each time you squeeze – it sends the baby into fits of laughter! Anything that makes him laugh is okay by me. And Pooh's "Honey Pot" collects little bees, something big brother loves to do for the baby.
Both items are brand new – if you can't find them in store yet, you can find them on the Learning Curve website. Use coupon code LCINFANT for 15% off.