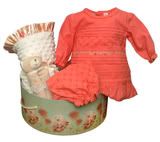 Every time I go to a baby shower, I always end up spending more time and money than I had originally intended. Which is no big deal – but by the time you get a gift, add wrapping paper, a bow, that cute bib that you just have to attach to the top of the present… it ends up being a production.
Here's a site that does gift boxes that come all ready to go, full of tons of great items that are useful for any Mom, put all together for you and ready to go and be gifted: Just Blossom. They offer various gift boxes filled with items such as receiving blankets, booties, onesies, burp cloths and more. Really, they have a huge selection so you can pick based on the gift recipient. (There are tons of neat baskets that I think would be perfect for second time Moms.)
Use coupon code 1001 for 20% off the total of your order.