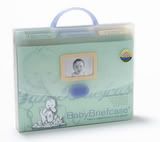 Baby Briefcase asks on their website, "what weighs more at birth, the baby or the paperwork?" The answer may be a toss up. From the birth certificate, to social security information, hospital discharge papers to other medical papers, there's all sorts of papers flying around that are important to save.
So Baby Briefcase is a cool little plastic carryall that solves your paper organization problem. It comes with folders for all sorts of items, those I've listed above, as well as things such as photos, birth announcement and more. Inside you'll find preprinted folder category tabs, a thank you note tracker, baby info cards for your wallet and a photo pocket.
Use coupon code coolmom to receive 5% off your order and free shipping.