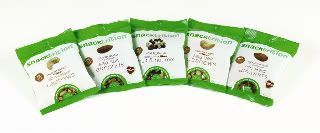 Here's a must have to toss in the bag: be it a gym bag, a lunch bag or a travel bag:
Snacktrition
is nutritional health food in a yummy enough way for everyone to love.
We brought
Fiber Salt and Pepper Cashews
with us on a vacation this summer. Opening the 9 pounce package was the perfect touch for an evening with family, a few minutes before we left for dinner. The spicy and healthy snack held us all over until dinner was served, and I noticed several hands reaching in for repeated tastings.
Back at the gym, I recently stuck a 3 ounce bag of Snacktrition Calcium and Fiber Fruit & Nut Mix in my gym bag. Rather than filling up on snacks and carbs at the costly gym cafe, I enjoyed this yummy bag of snack. The perfect size for a post-workout snack, or for a kids lunch box.
Order a few for your next party or keep them on hand for
instant healthy gratification
.