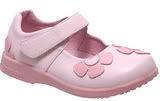 Some exciting news: Pediped started selling shoes for the older crowd last week. Dubbed Pediped "Flex," they're for ages 2-5+ (sizes US 6-12). This is really exciting news for us because their traditional shoe (soft-soled baby shoe – the "Originals") only goes to 24 months and we're not long for wearing these shoes anymore.
I'm thrilled to have an option as my toddler grows out of the Originals. You can view the entire line of new designs here (I'm all over the Camo and the Jake for Cole!)
Cool features include:
They're still really flexible which is great for little growing feet
Each heel has a shock absorbing cushion
The "Flex" system means that each pair of shoes comes with 2mm insoles. You can customize the shoes to fit your child – stick in the insoles when the shoes are a little big… take them out as their feet grows, allowing you to customize a perfect fit (and allowing the shoes to last longer)
cute designs
Use coupon code hapr08 for free shipping.