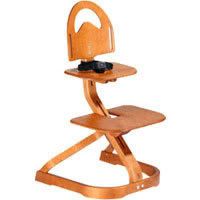 About 8-months ago, after being teased a bit for still sitting in a "baby chair" we eliminated the booster seat from my then four-year-old's dinner chair. And for several months there after my husband and I were at our wits end. Dear Carson wouldn't sit still. There were Cheerios, carrots, peas, chicken… even pancake pieces(!) all over the floor. He'd even suffered a few injuries having fallen off the chair. What we quickly realized, as old as almost 5 was, HE wasn't ready for to sit in an adult chair.
At our table, rules and manners matter. Though we can't believe it, apparently we set our expectations pretty high. The kids are expected to sit on their bottoms from the beginning of the meal to the end, facing forward. No, they may not be excused early to play. No elbows on the table. And Carson, who has attention deficit tendencies, just couldn't do it. We needed a solution, fast.
Until my kitchen was blessed with the Svan Youth Chair. Basically, its their high-chair, minus the tray which holds the baby in. The chair has a seat bottom that's toddler/preschooler sized and a straight back. Its has endless adjustments for size–with the goal of a child sitting high enough that his elbows form a right angle when his hands are on the table (this is actually "proper" posture). Additionally, there's a foot rest, which should be measured to his knees forming a right angle. With a place for feet and a comfortable place for hands, you get less wiggle-necessity, which leads to less mess and a more comfortable child. Its not magic, he'll still move. But he sits longer, better and with much less mess.
He's also shared with me that he's more comfortable working in this chair, which makes sense. He choses the chair for his homework chair, as well as for art projects and writing time. I chatted about this with his teacher who commented that its been proven true that when a child sits with correct posture, he's likely to perform better in his school work.
The Youth Chair happens to look a whole lot nicer than the big plastic booster, anyway. Its created of wood and there are several stains available to match to your kitchen. So with the youth chair we're getting comfort, clean, mannerly and peaceful meals, proper seating for homework and a tasteful look.
Use code orange for 10% off any purchase at Generation Orange.