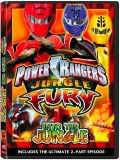 Two new Power Rangers Jungle Fury movies release next Tuesday, December 16th. Power Rangers: Way of the Master and Power Rangers: Into the Jungle.
We have 3 of each movie to giveaway this week. Want to win a copy of each for your kids? 3 winners will receive a bundled set.
This contest will close at the end of the day, Monday December 15th. Winners will be notified on the release date, Tuesday, December 16th! To enter, subscribe to our weekly newsletter.