The Indian Summer that has struck the east coast has definitely been to my advantage: extra opportunity to enjoy all new gear! I recently took the Skip*Hop City Chic, along with my boys and a mod stroller, to the zoo. A bit fancy for a zoo day, it got quite a few second glances. And although it was fancy, I loved that it that it brushed clean, something the canvas Skip*Hops of old wouldn't have done, they'd have collected the dirt and needed a thorough washing.
The exterior, available in trendy, funky patterns, is mostly a soft vinyl, not shiny and thick (more like the exterior fabric of the Lexie Barnes). And to make it a bit more luxurious, you'll love the leather… yes, real leather, on these Skip*Hops. A bit of detail is embellished in leather, as well as the base and tote straps–which are thin, round and stay on the shoulder surprisingly well.

The detachable wristlet, though a little big for me, was so handy for places (like our beloved reptile house) that aren't stroller-friendly. My huge wallet, my camera. lipstick and phone all fit, albeit snuggly, inside. It looks tres' chic attached to the bag, too. It clips off to be a wristlet or a shoulder bag and if you're in a hurry and don't want to reclip it to the bag (which doesn't take long at all, but it takes too long for a running toddler at a busy zoo) it fits nicely into the interior of the bag.
In addition to the fabulously organized interiors that Skip*Hop is loved for, they also kept the outside cup holders (3 cheers!!). These look nicer than the mesh bags of the canvas Skip*Hops, and they hold cups firmly. I fit my drink in an exterior pocket without a lot of spillage (gotta give a little credit to the suspension on my stroller) while chasing the kids at the Children's Zoo. What's so nice about these holders, versus the mesh, is that they're sturdier because of the vinyl–so the cups and bottles fit in and out with one hand, no need to open the area with hand number 2.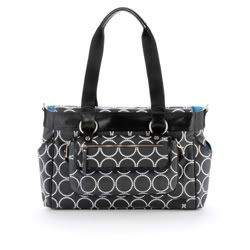 An addition to the Skip*Hops of before, the City Chic has feet! About a cm (maybe smaller?) off the ground. It stays upright and steady. Another standout is that this Skip*Hop has a zipper at the top. This is an upgraded Skip*Hop, they upgraded the zipper, rings and attachments to silver metal. Speaking of attachments, gone are the days of pinching fingers while attaching your Skip*Hop to a stroller handle. The City Chic has a thinner, yet still-sturdy piece and which is attached with a metal spring hook and ring.
I'm impressed. We're not talking absolute luxury, but a sharp look on a proven and beloved design. A definite upgrade. People know the Skip*Hop, they come back to it again and again for a reason. They like Skip*Hop bags convenience, organization and durability. And didn't let that go. Its all still there, just shilded. (From the exterior, I wouldn't even know it was a Skip-Hop, the label is so low-key I had to search to find it.)
Due in November (deep breath… its only a few days away), you'll soon find the City Chic at Skip*Hop's own webpage, as well as many favorite local and online boutiques.