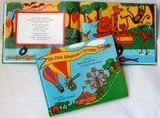 There are a lot of "customized" books available out there. Here's one that my son has taken a liking to — Custom Made for Kids' "The First Adventures of Incredible You." What's fun about this one is that not only is the name customized, but little details throughout the book that you have chosen.
For example, you can put in your favorite sports team — and who in that child's life will be attending. ("Mommy and Daddy" go to a "Philadelphia Eagles" game in our book.) You can also pick favorite zoo, who your child is most likely to gaze at the stars with, bake cookies with and more. Each page had some sort of personal tidbit and no one's forgotten, from siblings to pets to grandparents, there's a mention for each in the space of the pages of this book.
It makes a neat gift too. It retails for $32.95, but you can use coupon code mws15 for 15% off your order through November 15, 2007.