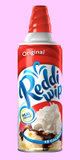 Here's a little giveaway for you guys I thought would be fun. Normally I wouldn't be into doing one of these kinds of giveaways but I like Reddiwip – they use real cream (none of that artificial looks-like-cream-but-who-knows-whats-in-it stuff) in their products. Plus, who wouldn't want to win a dessert cookbook? Yum!
So here are the details:
Two winners will receive some dessert goodies with a $100+ retail value from Reddiwip, including:
– 1 signed Gale Gand cookbook (Short + Sweet)
– a year's supply of Reddi-wip (12 free Reddi-wip coupons)
– 2 Reddi-wip branded bowls
– 1 Red silicone muffin pan


To enter, simply subscribe to the Mommies with Style weekly newsletter, if you aren't already a member. You'll get weekly emails with fun features, discounts and coupon codes from our blog. Subscribe before the end of the day, Tuesday, April 29th to be eligible. Two winners will be randomly selected after that date.