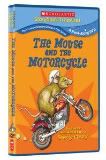 My kids, like most of yours, love books. Love reading. Love stories. They amaze me with the connections they make to the real world, and how the stories truly come to life in their minds.
So when we previewed Diary of a Spider and More Cute Critter Stories, an installment of Scholastic's Storybook Treasures ™ on DVD, the kids were instantly swept into Spider's web of adventures. Both my 2 and 4 year old loved the story, and both made an instant connection between the video and Spider's buddy, Worm, of Diary of a Worm fame.
Adapted from the best selling picture book by Doreen Cronin, Diaper of a Spider follows the premiss of the title story, available at bookstores, but brings Spider and his adventures to life. Just like in the story, kids thrill in learning life from the perspective of a spider.
Following the title video are 4 additional stories: 3 read-alongs and one bonus tale, all about critters that kids love.
Another entertaining DVD, due out today, Scholastic Storybook Treasures has brought Beverly Cleary's beloved Ralph S. Mouse to life in The Mouse and the Motorcycle. This endearing DVD is the perfect mix of adventure in just an hour. With a Read-Along option, kids love to follow Ralph on his adventures—in just the way we imagined it as children. Watching this film was a true journey down memory lane—and I'm thrilled that I'm now sharing some of my favorite characters with my kids.
Following The Mouse and the Motorcycle is a bonus feature, an animated version of Wee Gillis, an adaptation of Munro Leaf's story.
Scholastic Storybook Treasures is announcing numerous additions to their library in the coming months, as well as a number already available now. For more information on the variety of books/DVDs available, and to purchase, visit newkideo.com. Use code readalong for a 15% discount.