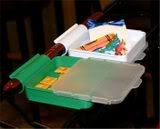 I leave a trail wherever I go. Cherrios, spit-up, random cat-hair on my clothes, you name it. I joke that I sometimes feel like Pigpen from Charlie Brown. Seriously. And of course now that I'm back in the land of baby and baby-throws-everything land, we only tend to make even more of a mess.
Here's one product that leaves less of a mess and can't get thrown down: the OnTray. Designed by a Mom, it's a tray that snaps onto the average-sized shopping cart handle. You can use it for snacks while you're grocery shopping – snap it onto the handle and put a couple snacks inside; it's that simple. You can adjust the top so only a small part of it is exposed if you don't want baby to have access to everything at once.
Or you can take the entire top off and use it to store crayons or other little toys for older children. Either way you slice it, it's a useful product and it's small enough to tuck away in your diaper bag so storing it isn't a problem.
Better yet, it's entirely affordable at $6.99 a piece and you can choose from a couple of different colors. Enter coupon code "mommieswithstyle" at checkout for a gift with purchase.