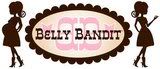 Okay, so all of you skinny Mommies with six-pack abs that were unaffected by giving birth can just move along and skip this review. But for the rest of us in the flabby tummy real world, listen up because here's a cool product.
The Belly Bandit helps tighten and shrink your post-pregnancy belly. According to the Belly Bandit folks, this product helps you improve posture, lose inches off your waist faster, minimize stretch marks and more. As someone who had two c-sections, I like that it also provides comfort and support post surgery (I used granny panties to cover up my scar those first few weeks while it healed – the Belly Bandit would have been great to have!)
Several celebrities have the Belly Bandit including Angelina Jolie, Halle Berry and Nicole Kidman. Minnie Driver says the Belly Bandit improved her posture and helped her while nursing.
So here's a list of all the retail locations that carry the Belly Bandit across the US — including many online stores (scroll down). You can find it at Supermomz and use mws10 for 10% off your order.