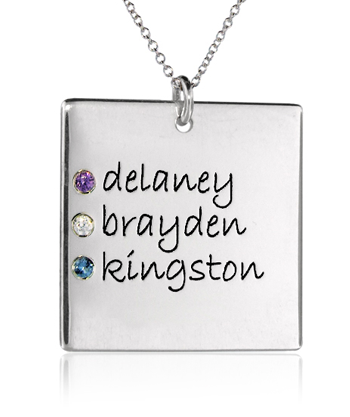 I'm loving my new "W" necklace from Posh Mommy Jewelry. It's a simple gold circle with an elegant W (which fits for both my first and last name) and has my boys' birth dates engraved on the back. Simple, elegant and charming, I've been wearing this necklace almost every day since I received it.
It's so subtle too that I find it can be worn alone or layered with other necklaces. Such a great holiday gift for Mom, right? Well I have a great deal for you for purchases made at Posh Mommy Jewelry over the next few days!
In honor of Small Business Saturday, you can receive 15% off your order at PoshMommyJewelry.com on Saturday November 24th and Sunday, November 25th by using coupon code smallbus15.
And if you forget to order 'til Monday? No worries! There's also a Cyber Monday coupon code: use coupon code cyber on Monday, November 26th to receive 15% off your order on that day as well.
Posh Mommy Jewelry makes personalized jewelry at all price points.  Dress it up with gemstones and precious metals, keep it simple or do whatever works for your style!