The following was written by Mommies with Style reader & guest writer Anne: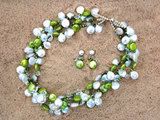 I have been in a bit of an accessory slump lately. While I do have some great pieces, more and more often I have been getting a very blah vibe when I go to put something on. The dark cloud hanging over my jewelry box lifted when I got some pieces from Spotted Dog Jewelry Design.
With a keen eye for color and proportion, Spotted Dog creates pieces that stand out in a crowd, From semi-precious to vintage Lucite, the materials used in their creations have a balance of elegance and whimsy. One of my favorites is the Raspberry Moonglow and Turquoise Knot Double Strand Necklace, which is such and fun, bold piece.
Spotted Dog has also designed an "Accessorize For The Cure" piece that is simply stunning. This 3 strand freshwater coin pearl necklace with sterling accents will not only turn heads, 30% of all sales will be donated to the Lymphoma Research Foundation.
Add some fun to your jewelry box with Spotted Dog Jewelry Design, Be sure and check out the earrings as well as the fun cuff bracelets, too. The new Vintage "Re-Mix" Collection has unique pieces to fit in any wardrobe and budget.
MWS readers will enjoy 10% off by entering "Mommies With Style" in the comments section (discount will be taken off before processing).