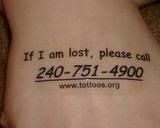 Completely scary but plausible with even the best of Moms: you're in a crowded environment, you turn around and you don't see your child. Has this happened to you? I've definitely had moments on the playground where my eyes lose my son for an instant or two and there have been moments where I can find him and panic. That gut-wrenching oh-my-god-where-is-he-I'm-thinking-the-worst panic. We all know it – unless you have your child on a leash 24/7 I'm sure you know it too.
So that's why I was intrigued when I heard about this latest product, Tottoos. A cute play on words, they are obviously tattoos for tots. Temporary tattoos that you have personalized with important information – your phone number. I think this is a great invention. You can never be too careful, and having a stash of these on hand for places like Disney, an afternoon trip to the park or a day at the mall seems more than sensible to me.
You can put your name or the child's name – your home phone, cell phone, whatever. You personalize it to say what you'd like.
Use coupon code MWS10 for 10% off your order. This is a great purchase with the summer coming.