I'm constantly amazed that my son actually learns when he goes to preschool. I know that sounds like a really dumb statement to make on my part, but it's the truth. One example was my shock when we were driving one day and he just recited the Pledge of Allegiance, then sang God Bless America, teaching me verses I didn't even know.
Another was when my husband and I were chatting about scheduling and my son piped in to tell me what day it was, what day yesterday was, and what day tomorrow would be. And then continued by singing a song that tells of the 7 days of the week.
I'm just continually blown away by his mind-as-a-sponge and all he picks up. Along these same lines is the latest product we tested out, the MY WEEK Calendar from 2Fish Kids. It's a weekly magnetic wipeable calendar. You stick it to your fridge and each week, your kids can use the additional magnets provided to mark off their weekly schedule.
For example, in our house, we have a school magnet on Mondays, Tuesdays, Wednesdays and Fridays. Thursdays sport a swimming magnet, and each week various days have a playdate magnet on them. This week was extra exciting as we got to use the birthday magnet for the day my baby turned 2.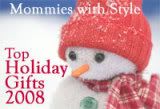 In addition to being entertaining, it's a teaching tool. It teaches about the days of the week, the seasons, the changing weather and more. Plus it helps kids understand the concept of time and how far away yesterday was or how far it is until Saturday comes again. My son has already picked up so much by using it.
It comes with a dry erase marker for notes and to circle various days if you so choose. The 2FishKids calendar sells for CAD$19.99. Use coupon code MOMSTYLE to get it for CDN$17.99 (roughly $14.00 US – take advantage of the strong US Dollar and make this purchase a steal!)