Classy Mommy turned me onto the LeapFrog Tag Reading System. Once I read that it was one of her favorite toys of all time, I had to check it out. It's now sitting in a closet in my house and destined to be tagged a gift from Santa.
Because in my book, there's nothing better than an entertaining toy that teaches, and that's exactly what this toy does. Kids use an interactive tool (that kind of looks like a pen) to touch the pages of each book to hear the book read to them. They touch each word to hear it spoken, which I think is pretty neat. It's a biggie for phonics and reading comprehension.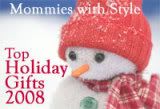 If you're intrigued, check out the little video they have posted on Amazon. The system itself is selling for $49.99 on Amazon. Each book is $13.99 (keep an eye out for sales, they're currently $9.99 in-store at TRU). They have a variety of stories available from Cars to Diego to I Spy and much more.
This is definitely one of Mommy's favorites for Christmas, let's hope it's one of his too.
Oooh, and, I'm also going to buy and wrap for myself the Storage Case because ya know, anything that keeps the toys organized makes me happy.