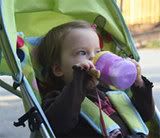 I can't tell you how many times I have been out with my daughter at the mall and she throws her toy out of the stroller on the ground followed by the infamous "uh-oh" and a fit of giggles. The Ali-Oops toy clip puts an end to this never-ending battle. And keeps your baby happily throwing their favorite toy or sippy cup while never letting it out of their reach. The toy clip tethers your child's toys, sippy cups, etc directly to your stroller, carseat, or highchair.
The Ali-Oops! Toy Clip is approximately 10 inches in length with heavy duty snaps on either end for attachment. It comes in a "small" or "large" and is made with stylish grosgrain ribbon.
Ali-Oops! is the signature product of Ali Designs. An online boutique selling children's accessories.
Ali Designs is offering Mommies With Style readers 10% off all items. Use the following link to Ali Designs and the discount will be applied at checkout.