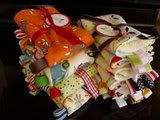 I had forgotten how much babies loved tags. My 6-month-old has started discovering tags and they are of course, more interesting than any other toy I can put in front of him.
Which is why I love this find from Martha's Baby Bundles: hand-crafted blankets with tags on the edges. She uses gorgeous vintage prints on one side and a soft chenille fabric on the other. 12 ribbons of various prints and textures are attached to each side of the blanket.
The Bundles are lovey-sized, 15×15 so they're great on the go in a stroller or car seat. And a great shower gift! Check them out at $20 each and use coupon code "hollywood2" for 10% off your order.