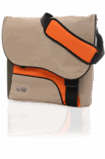 So I'm a big fan of Uptown Bella. My all time favorite laptop bag (not that I get to use it as often as I'd like!) is their Ashley Satchel. It made my top 10 list for 2006. Having never seen any of their other products, I was psyched to check out the new Nicole Messanger.
It has more of a hip, earthy and laid-back feel to it than the Ashley. I picture this bag as something my sister would have slung over her shoulder with a cup of her soy latte in hand on her way to work as she's jumping on the subway.
Inside, it has plenty of room for laptop. It has a nice and sturdy feel. (Hate putting my laptop in anything flimsy or less than sturdy – we're talking about my laptop here – can't afford to NOT protect it.) There's a front zip pocket where you can stash all sorts of little odds and ends. It's made of WeatherTac Nylon, meaning it's suitable for outdoor use. (I wouldn't take it out in a monsoon or anything but the thinking here is that it can withstand a run in the rain or whatever, all the while protecting your computer inside. Always a good thing for Moms with kid in tow. Juice protection?)
Use coupon code 15%licorice0630 for 15% off your order. Enter the code into the instruction box at checkout.