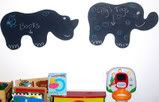 This will probably come off as totally stupid sounding, but here goes: this product rocks. I don't even know what more I can say to articulate how much I love this product. I'll just say that this has been a bit hit in our house and is fantastic. WallCandy Arts are stickers to decorate and entertain on your walls.
They're large and they peel and stick on the walls, some for decor purposes, some for your kids to draw on. And they have all sorts of fun items: plain squares and circles, animal shapes, they even have a growth chart where you can chart your child's growth progress. The chalkboard pieces come with white chalk.
I was definitely worried testing this one out too – we used the plain big chalkboard (square) and the animals. We peeled a big square one and I put it on my son's wall with a threat about not getting any of the chalk on the walls, and a warning from my husband about how it better not ruin any of our paint job when I remove it later on. I'm happy to report that my son was very behaved with the chalk but did get a tiny bit on the walls, and that it wiped right off. Better yet, the entire chalkboard sticker peeled right off with ease and not a scratch to the walls. And they have such fun items for decoration purposes: stripes, airplanes, animals, flowers and much more.
Visit the WallCandyArts.com site to see everything they have to offer. Arte Bebe also has some of the collection, and you can view it and get it at 10% off with coupon code MWSFALL07 for that, and anything else on the site. Check it out – it takes "drawing on the walls" to a whole new level.