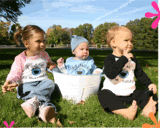 Here's a shop offering original t-shirt designs with catchy phrases–for almost everyone on your shopping list. Mom, baby, tweens and toddlers can all wear Oscar the Grouch t-shirts, or all proclaim they're booty-licious (like Shana Moakler's little princess does when she wears her b*glam baby shirt.) And what Dad wouldn't melt over the "Daddy's Cupcake" top (which was gifted to little Violet Affleck)?
My favorite at b*glam baby is the Super Hero Cape Set. I know two little super heroes who would LOVE to wear those!
Mommies with Style can save 20% when they use code BMWS20907.