This year's been a big one for me. I entered it with an infant and I'm leaving it with a toddler. We also potty trained Nate earlier last winter (had just turned 3); I've enjoyed a full year of not being pregnant (yay), and I spent most of 2007 breastfeeding, ending (sadly) in the late fall. I've been though a gamut of products over the course of the calendar year.
So here's a list of my top ten based on my own experiences – they are listed in no particular order, as ranking them would have been too confusing for my already tired Mommy mind:
Sara Bear Baskets
— I did a
mini-review
of our Sara Bear Basket the first week of January, when baby was 8 weeks old. This continues to be one of my all time favorites for use with a newborn. As a two-time C-section Mom, I can really appreciate not having to go up and down the stairs to change baby's diaper in his room.
For months, we kept a
Sara Bear diaper caddy
stocked on the first floor. The liner inside the basket offers different cubbies for necessary items like diapers, wipes, diaper rash cream. I loved the convenience of it. Use coupon code
STYLE
for 10%. Continental US shipping only. Expires 1/31/2008.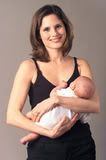 GlamourMom tanks
— So I literally lived in these tank tops the entire time I was breastfeeding. They provide easy access for quick breastfeeding, and what I loved the most is that they kept my stomach covered while I was doing it. I layered up with these in the winter and would wear only these and a tank or tee shirt in the summer. I wrote a
full review
last February.
You can find them on the Mom 4 Life site. You have to go through
this link
to get to the homepage, if you do you'll get 10% off. Do a search on "glamourmom" from there. Or, get them on the
SuperMomz site
, where they are on sale for $37.95 and you can use coupon code
mwsfree
for free shipping.
I can not rave enough about these tank tops – nursing bras are great but the GlamourMom is a nursing bra and extra coverage in one.
Hooter Hider/Bebe Au Lait
– along those same lines, I have to add the Hooter Hider, or Bebe Au Lait. I really wasn't one of those nursing Moms who had to hide myself – I nursed in public like a champ in the end, but I'm a modest person and *I* felt more comfortable if the only one seeing my exposed self was me and the baby. Anyway, the Hooter Hider is also a must-have for any nursing Mama. It loops right over your head and covers baby. The top part of the cover has a wire inside of it, so it bends to allow eye contact with you and your child where no one else can see.
I'm cheating a little because this was also on my best of 2006 list. But I had to list it again – it came a long way with me again in 2007 and I wouldn't feel right leaving it out. It's arguably the baby product I used the most consistently all year long.
Find it at
Modern Milk
, use coupon code
mws
for free shipping on orders over $25. Or Mom4Life, go through this link and search for "Hooter Hider" and you'll get 10% off. And here's my
original review
of it for a longer description.
Wooden, American-made toys
— it's been a crazy year of one recall after another on some big name brand toys. I was skeptical about buying just about anything for Christmas, and I already have one toy that was under the tree that I've since found out has been recalled. To say it's annoying is an understatement.
I've been moving more and more towards wooden and American-made toys that I know are safe for my kids. Melissa & Doug are of course a big one (check out
Gummy Lump
for a full collection that is all 10% off), but I also liked shopping at
Oh-Toys.com
for
Cuboro
blocks and marble runs. And
ImagiPlay
has some great toys that are not only safe for your children but are eco-friendly. You can use coupon code
TopTen0330
for 15% off the ImagiPlay site until March 30, 2008.
Dad Gear backpack
– On a recent trip to Florida, both hubby and I carried our own Dad Gear backpacks. I have to say, I don't know how I lived on the plane before using one. This backpack has everything needed for extended travel or big packing days — a thin changing pad, a built-in wipes case, space for diapers, bottles and so much more. Basically compartments for all sorts of goodies you need when traveling with young children.
Use coupon code
MWS15
for 15% off your order of anything on the DadGear site. Hubby's also recently been wearing the Dad Gear Diaper Vest and loving it so be sure to check those out while on the site too.
Svan's High Chair
– So my big-bulky-ugly Baby Trend high chair from when Nate was a baby has officially left the house. Yay! I see no reason to ever use it again as we're still adoring the
Svan High Chair
.
It's easy to clean, takes up very little room in my kitchen and is actually a pleasing-looking piece of furniture. It has different settings to grow with child from baby up to teenager.
You can pick the color wood/stain as well as cushion choice. You can buy it at
Albee Baby for $224
and it ships free.
Little Docs by Circle of Friends
– this lotion is the only over-the-counter cream I've found that even moderately helps Cole's bad eczema. If we keep up with it and put it on daily, it keeps his dry skin at bay.
I can't say that about any other cream other than the prescribed hydrocortisone cream we have from the pedi. We use the Calming Cream and the Soothing Lotion. I reviewed
Little Docs
back in June and continue to be thrilled with the results.
Check their
local retailers
page to see where you can find it near you if you don't want to order it online. They supposedly carry it at some Targets and Walmarts, and when looking up my town I found that it's also carried at Ulta.
Merrell McGinness Handbags
– I carried the Merrell McGinness Margaret bag the entire fall and I still love it. I
reviewed it in August
and spent the entire fall adoring it and receiving all sorts of compliments on it. It's bigger than it looks, although I'm also an efficient packer. But I had plenty of room for diapers, wipes and a sippy or two, plus the rest of the usual necessities. You can check out their entire line at
www.merrellbags.com
.
Summer Video Monitor
— Hubby calls it "Cole TV." Each night he has to ask, "can you please turn off Cole TV now that he's asleep?" I'm addicted. It's by far the best "channel" we have in the house. I just love watching him play/talk/fall asleep each night.
We got it late in baby terms – we didn't have one with Nate at all, but Cole was a horrible sleeper early on. We co-slept until he was 6 months old and I had a hard time transitioning him to his crib. The monitor was a purchase at that time. It helped tremendously – I could see that he was just fine and it stopped me from running in every five minutes. Plus, we had to cry it out some and "seeing" that he was okay really abated much worry on my part.
The best part now is when he wakes up and waves to the camera. Good morning, Mom! I love it. So worth the $100. You can find it
on Amazon (ships for free)
or in-store at Babies R Us.
Lascal Buggy Board Maxi
– I'm happy to report that we've recently graduated from the double stroller to using the single again, with the addition of a ride on board for the days I have both kids with me.
On our recent plane trip, we had the Buggy board and we were blown away by how much easier it made travel. Nate calls it his "surf board" and gets a kick out of "surfing" while we push. It snaps right onto the back of the stroller (check to see if it's compatible with your single).
Obviously this only works with an older child but it's a great transition product when you have a child that's big but not quite big enough for trips where lots of walking's involved.
MWS special for Let's Go Strolling
: Shop before 1/15/08 and save 10% on strollers with code
MWS0810
and 15% on diaper bags and accessories with code
MWS0815
. Please note that certain manufacturers are excluded from this offer.
Runner Ups:
the iPhone
. Honestly it should have made by top 10, but no one wanted to hear me blab on and on again about how obsessed I am. So you can read
my review
from earlier in the year here if you're interested.
Wall Candy Arts
– these wall decals are too fun. Kids can draw right on the chalk boards. Read
my review from August
.
Graco's Baby Einstein Exersaucer
– borrowed from Julie, this exersaucer saw a serious amount of play. Two kids later, I have yet to see a more entertaining one. I included it in
a mini-review back in May
. The only reason it's not in my top ten is that I felt sort of lame doing a plain old exersaucer. But really, this one's fantastic and provides hours of entertainment to baby.
Baby Jogger stroller
– and the only reason this is even a runner-up is because I had it in my top ten last year. Still loving using both our single and
double
City Series.
Little Jules birth necklace
– I wear one, my Mom wears one, my sister now wears one (with her nephews birth dates). Simple, classic. Use coupon code
MWSGIFT
and get $10 off your order.
Cloud B's Twilight Turtle
– check out
my review
from earlier this month. Both boys love this product.